Promote Science is a Science outreach initiative founded by some research scholars of IISER Kolkata and CESSI. The main goal of this mission is to enhance scientific awareness in our society regarding career opportunities in different Scientific disciplines. This is a voluntary organization and is not for profit.
As a part of our Science outreach, we publish a free newsletter every month informing students about the current happenings in Science and the future prospects of Science in India. At present, we reach out to about 300 schools in India. We primarily use email for sending these to schools or individuals but we also send postal newsletters to schools which do not have email. We also conduct popular Science interviews on a regular basis. Our recent interviews are available at
https://www.youtube.com/channel/UCOVks7xlldA0SCCU6y_HC0g
Recently, we have also begun a new initiative called the Science show where we discuss about the recent happenings in science and about our outreach activities. The show is also available from our Youtube channel.
We also encourage discussion sessions with school students and teachers via Skype or by telephone.
We are about to embark on our rural outreach activities from the last week of January. The main attractions of our outreach activities will be science shows and stargazing sessions using a 6-inch reflecting telescope.
You are encouraged to donate stationeries and old textbooks/notebooks to Promote Science. You can also write to us if you want to donate monetarily. Please get in touch with us at promotescience2020@gmail.com.
Digital copies of our free monthly newsletter are available online at our website:
promotescience2020.blogspot.in
Please subscribe your school to receive the Promote Science monthly newsletter at
https://docs.google.com/forms/d/e/1FAIpQLSc2-dPOalm-IAafY9Ze5LO4kiZcIu6mhZLrCOYNdTQ2EoXdMQ/viewform
For individual subscription, please visit
https://docs.google.com/forms/d/e/1FAIpQLSfh8NQ0UJTSPeCHYrjmXycB3MjjV6jZviNWZLX4PueR8lYSYw/viewform
Your are encouraged to distribute this newsletter to anyone.
Part of our outreach activities are supported by CESSI.
Co-founders:
Abhilash Kumar Paswan
Amar Deo Chandra
Maitraya K. Bhattacharyya
Roshan Tiwari
Shuvojit Paul
Blog:
https://promotescience2020.blogspot.in/
Facebook:
https://www.facebook.com/promotescience/
Twitter:
https://twitter.com/PromoteScience
Quora:
https://www.quora.com/profile/Anusandhan
Youtube:
https://www.youtube.com/channel/UCOVks7xlldA0SCCU6y_HC0g
The Physics of Gravitational Waves and LIGO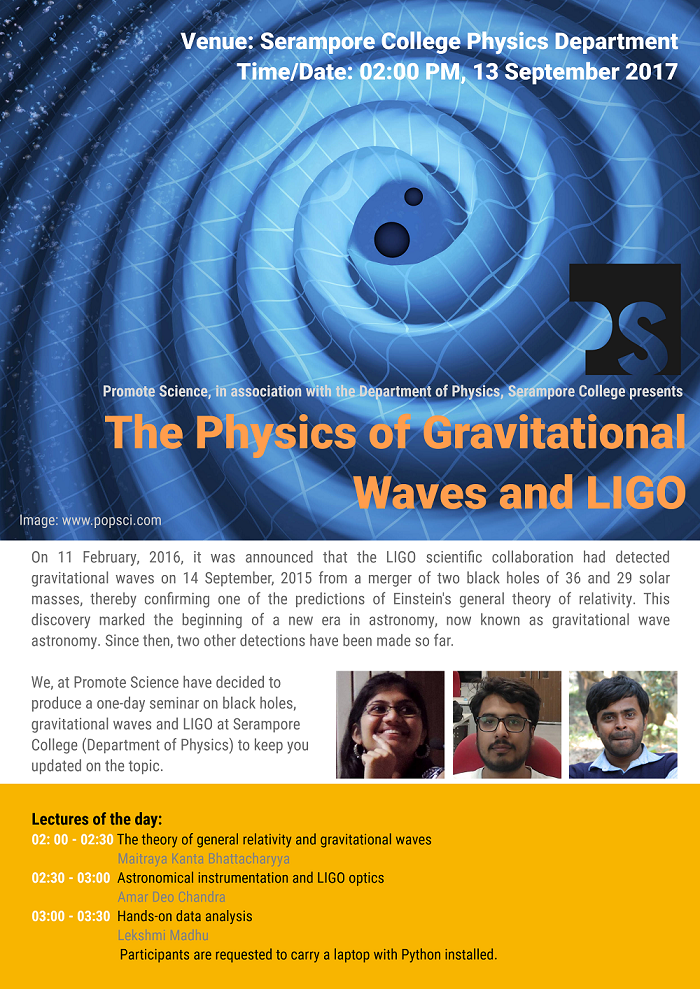 Samir Dhurde from IUCAA Outreach Cell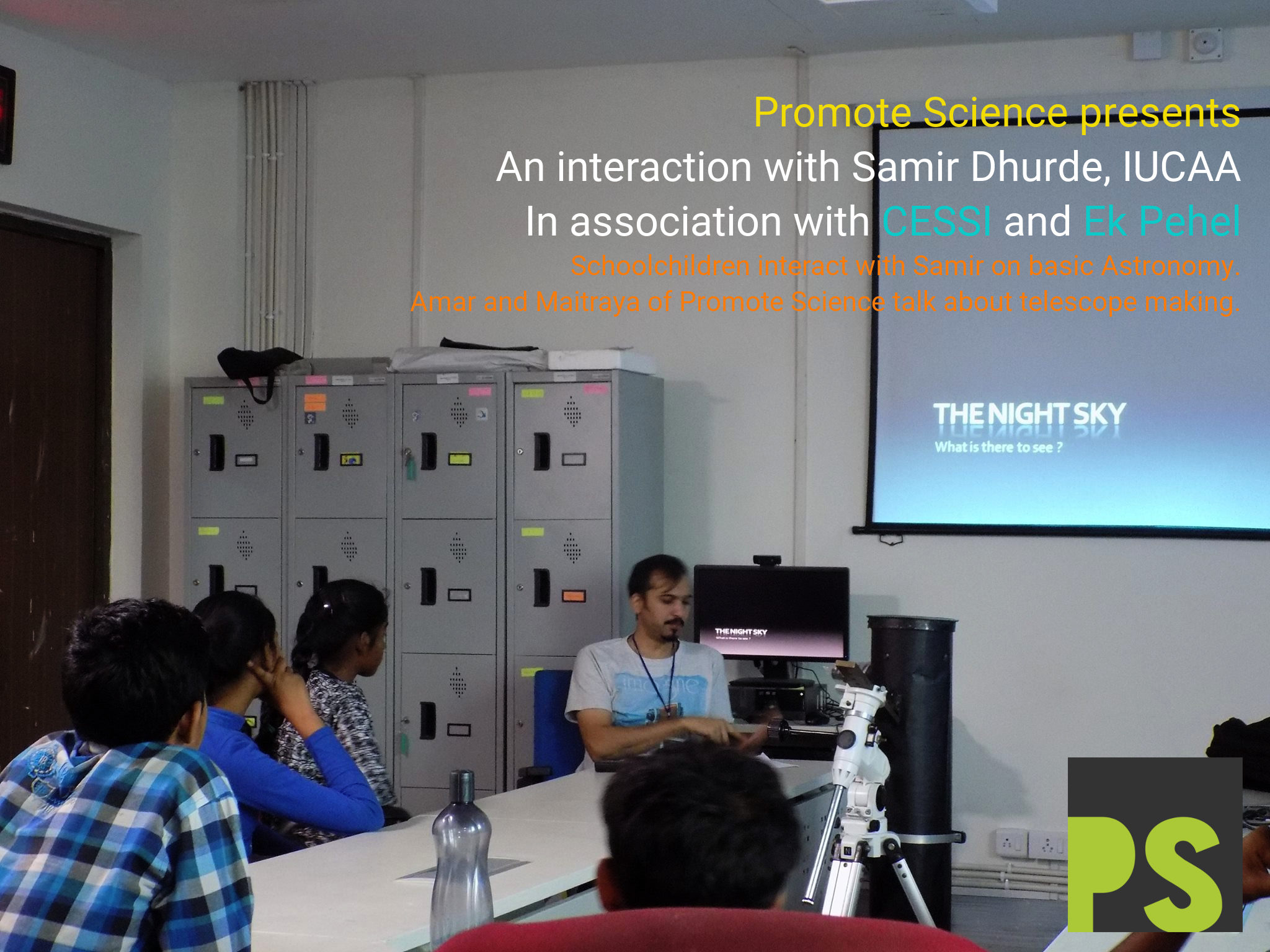 Samir Dhurde is a Science educator and an astronomer, associated with the IUCAA Outreach Cell. He visited IISER Kolkata and CESSI for a workshop on Space Astronomy and Telescope making and took some time out to interact with local school children about basic Astronomy on 25 March, 2017. Amar Deo Chandra and Maitraya Kanta Bhattacharyya of Promote Science also demonstrated the basics of the Newtonian reflector telescope to them.